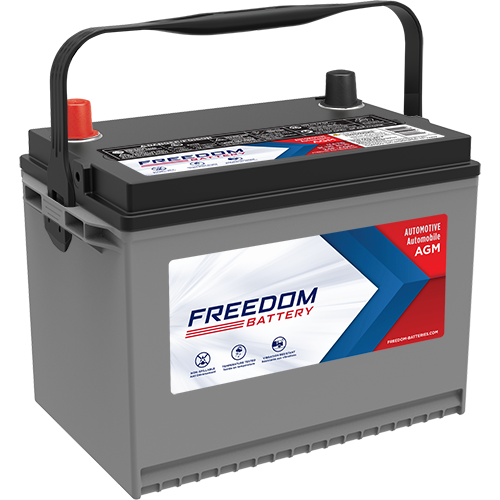 Freedom Absorbent Glass Mat (AGM) batteries are precision engineered to offer the ultimate combination of reliability, durability and safety, even under the most demanding applications.
OE qualified and proven technology

Superior electrical performance manages the demands of Start Stop vehicles
Accepts charge quicker so battery recharges faster after powering the over 150 vehicle electronics
Certified NON-SPILLABLE design provides the safest solution
Up to 2X the life of a standard flooded battery
Long-lasting performance even under demanding applications



Features of Automotive AGM

Freedom AGM batteries are ideal for Start-Stop vehicles.
Vehicle manufacturers have adopted start-stop technology to meet stringent fuel efficiency and emissions targets. Typically, vehicle owners can save up to 5% fuel efficiency compared to traditional internal combustion engine vehicles.
Start-Stop operation puts increased demands on the vehicle battery, Start-stop vehicles require an enhanced battery to manage the increased electrical loads when idling and the more frequent engine starts. The battery is powering lights, heating, air conditioning, entertainment systems, and other accessories while the engine is shut off. The battery must still supply power to the engine when discharged. Freedom AGM batteries can handle the increased demands of Start-Stop vehicles.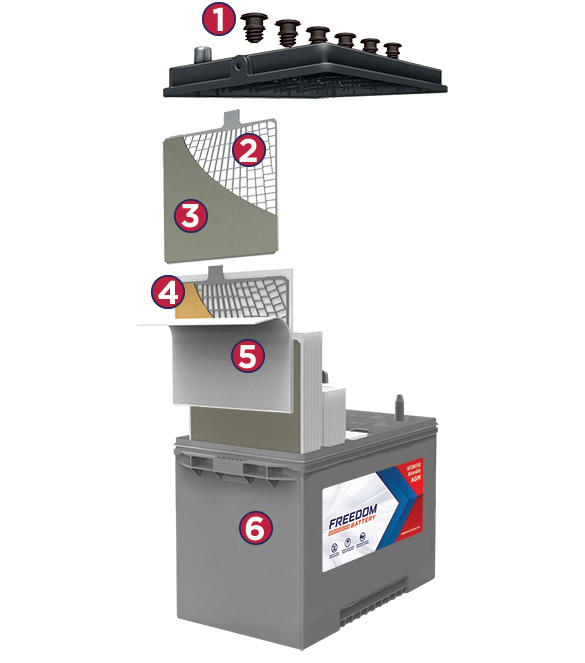 1. DUAL-SEALED VALVE - Creates a maintenance-free environment, ensuring water is regenerated even in high temperatures
2. PATENTED STAMPED GRID TECHNOLOGY - Patented, fully-framed stamped grid technology for both positive and negative grids optimizes electrical flow and resists corrosion for longer life
3. PROPRIETARY NEGATIVE PASTE - Increases charge acceptance
4. HIGH DENSITY POSITIVE PASTE - Improves cycling performance for high accessory applications
5. AGM SEPARATOR - Glass mat separators immobilize electrolyte for stable cycle performance
6. BATTERY CASE - Rugged reinforced polypropylene case holds the plates under compression even in high-vibration applications.