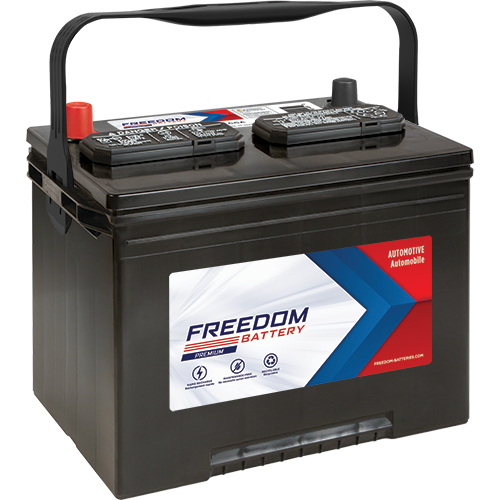 Freedom Premium automotive batteries offer a full-line to deliver the performance drivers demand. More starting power for extreme climates, superior performance and can handle the high demand applications.
Maximum starting power and higher cold cranking amps

Designed to meet and exceed OE specifications
Impact resistant polypropylene case reduces vibration damage
Patented, fully framed stamped grid technology optimizes electrical flow and resists corrosion
Delivers outstanding reliability
High density lead-oxide paste improves cycling performance
Maintenance-free



Features of Premium Automotive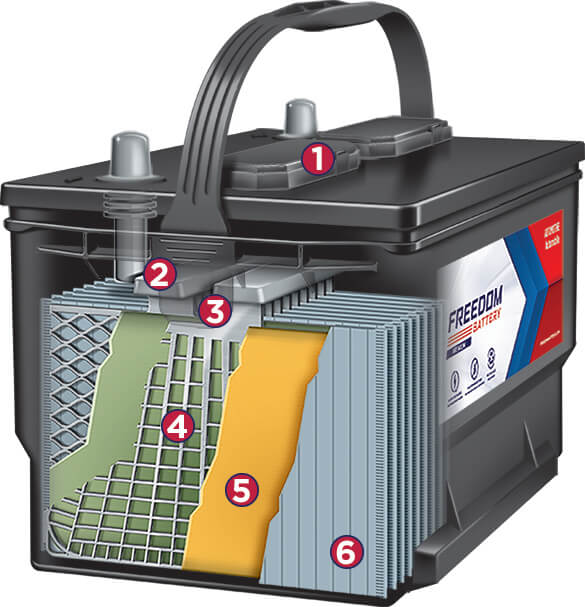 1. BEST-IN-CLASS VENTING SYSTEM - Engineered to vent gases in a controlled manner and ensures gases vent away from terminals, reducing leakage and corrosion
2. WELD AND STRAP DESIGN - Heavy-duty strap and weld system features a high-grain top alloy and the industry's best intercell weld, virtually eliminating corrosion
3. POSITIVE AND NEGATIVE PLATES - Centered lug and uniform plate thickness provide better performance and longer life. Rounded corners on negative plates eliminate separator shorts.
4. PATENTED STAMPED GRID TECHNOLOGY - Patented, fully-framed stamped grid technology for both positive and negative grids optimizes electrical flow and resists corrosion for longer life
5. HIGH DENSITY PASTE - Improves cycling performance for high accessory applications
6. ROBUST SEPARATORS - Strong and stable, leading to few battery failures due to shorts