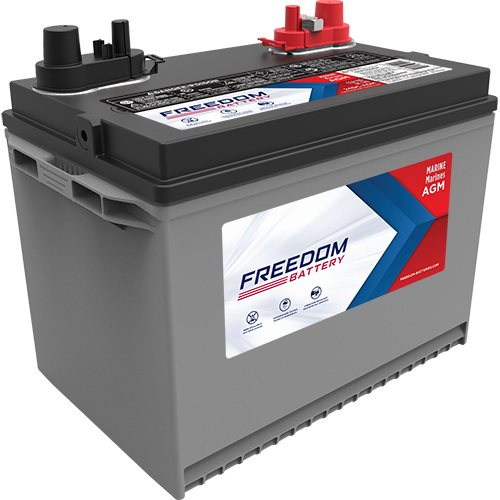 Boats and RVs are loaded with electronics, navigation systems, entertainment systems and multiple other accessories. Freedom Absorbent Glass Mat (AGM) marine batteries are ideal for today's power hungry boats and vehicles, precision engineered to last up to 2X longer than standard flooded batteries. They deliver superior electrical performance to handle short bursts of high currents for quick starting and deep-cycle power to meet your ongoing electrical needs.
Superior electrical performance designed for repetitive cycling

Recharges quickly after powering trolling motors and other accessories
Certified NON-SPILLABLE, can be mounted in virtually any position
All-weather performance, resists internal corrosion from heat extending battery life
Rugged case hold the plates under compression for maximum vibration resistance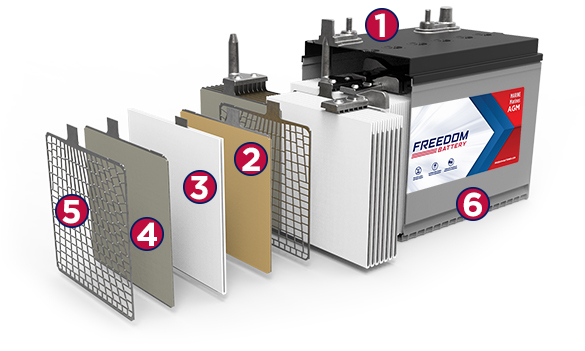 1. COMBINATION TERMINALS - SAE and 5/16" threaded posts provide ease of connection for multiple accessories
2. HIGH-DENSITY POSITIVE PASTE - Improves cycling performance for high accessory applications
3. AGM SEPARATORS - Glass mat separators immobilize electrolyte for stable cycle performance
4. PROPRIETARY NEGATIVE PASTE - Increases charge acceptance
5. PATENTED STAMPED GRID TECHNOLOGY - Patented, fully-framed stamped grid technology for both positive and negative grids optimizes electrical flow and resists corrosion for longer life
6. BATTERY CASE - Rugged reinforced polypropylene case holds the plates under compression even in high-vibration applications.